Water Pump for 1994 Toyota Land Cruiser
No.
Part # / Description
/ Price
Price
Water Pump Assembly
Fits Land CruiserWater Pump - Repair or ReplaceIf any of the components of your vehicle's water pump assembly are faulty, your Engine can't properly Cool itself. If you've noticed a Coolant leak from the front of your Engine, quickly rising Engine Temperatures at Idle or that your water pump pulley is loose or making noise, have your Toyota inspected by one of our certified Toyota technicians. 1993-94. Land Cruiser.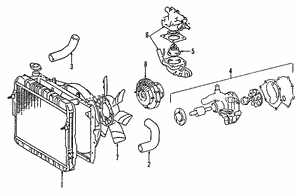 Radiator
Fits Land CruiserRadiator - Repair or ReplaceTypical symptoms for a failed radiator include both an overheating Engine and a Coolant leak. But some radiator failures can also result in burned or Dark Transmission fluid. If the Cooling system in your Toyota needs attention, contact a factory-trained Toyota technician. To 01/1995. Land Cruiser.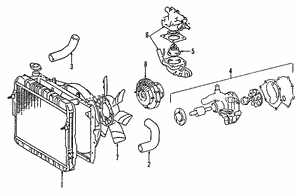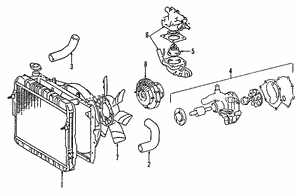 Lower Hose
Fits Land Cruiser Land Cruiser. 1993-94, rear. Water pump side.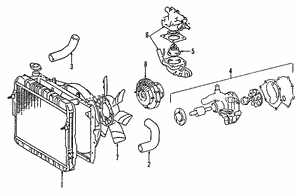 Lower Hose
Fits Land Cruiser Land Cruiser. Radiator side.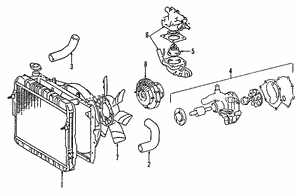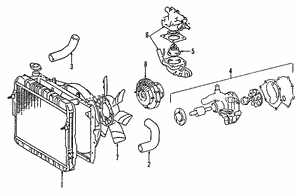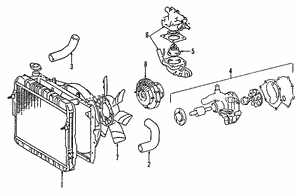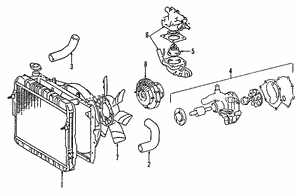 Fan Clutch
Fits Land CruiserRadiator Fan Clutch - Repair or ReplaceYour radiator fan Clutch can fail in such a way that your fan doesn't engage, causing an Engine overheat, or it reMains engaged at all times an is excessively loud. If your Toyota needs a fan Clutch Replacement, our technicians are available to help. 1993-94. Land Cruiser.
Related Parts
Part # / Description
/ Price
Price